Activity
There are big beautiful areas to live in, both in and around the holiday village. If you do not like to go fishing, feel free to wander at leisure, maybe have a picnic, lie and sunbathe mm. but be sure to close any gates you opened! "Allemansrätten" (Everyman's right) applies, freedom under responsibility. The garden around our house, however, is private, where we can relax. In the summer, one strives to be outside late into the evening, maybe barbeque and drink something good! Of course it is okay, but please respect your neighbours! Some of them are perhaps in the countryside to enjoy the "silence" and nature.
Golf
Do you want to be a little active and move around? Then you can take a round on our 10-hole golf course! Here we play "Bonna Golf", which are both fun and easier than normal golf. Both balls and holes are much bigger, a normal round takes about 2 hours and is suitable for almost all ages. The sport was invented in Holland in 1999, and is a huge success, with championships across the country. May 2006 inaugurated Hallandsboda first Swedish Bonna Golf-court! Clubs and balls, as well as gaming protocol with map and rules are available in the service building.
Hot tub
If you want to enjoy a little extra then why not rent to our wood-fired hot tub. A warm bath under the open sky is a lovely experience for both body and soul! The barrel can accommodate 8-10 people at a time, but obviously you can sit and cuddle alone, with your beloved or with some friends !! The stove is placed outside of the barrel so there is no risk of burning yourself on it. Please let me know if you want to book a bath, preferably one day before because it takes about 5 hours for us to warm up the Hot tub.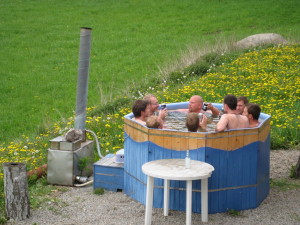 Fishing
In the river there are a variety of fishes including salmon, pike and perch. But if you are going fishing, you need to buy a fishing license. You can do this at the Salmon House in Mörrum, or book online at www.morrum.com. Here you can find more information regarding fishing, prices etc. We are cooperating with the company Laxlyckan (Mattias Holmqvist) offering guided fishing trips and high-quality courses in fly fishing. For more information, visit www.laxlyckan.se.
Bath
To bathe in Mörrumsån is not recommended, but if you want to, it´s up to you. Remember that it can be real strong currents and pretty cold water. Keep an extra eye on the kids, so that no accidents happen !! There is otherwise a pleasant bathing with jetties, toilets and changing rooms nearby, in Hemsjö and in Kyrkhult. Located in Svängsta are heated outdoor pools, if you prefer. Would you rather swim indoors there´s Holje bath house in Olofström.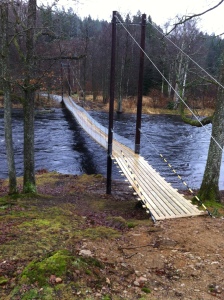 Other activities
Let the fresh air fill your lungs. Get inspired and feel the tranquility along one of Blekinge's many cycling and hiking trails. In the surroundings are Laxaleden and Blekingeleden. Read more at www.karlshamn.se, where you can find more information about other exciting experiences.